"It's a big step forward for air traffic."
Staring at a computer screen at Houston Air Control Center near Bush Airport, air traffic controller Jim Pharmakis says it's not hard to understand why ADS-B, or Automatic Dependent Surveillance-Broadcast, is a good thing.
"In a domestic environment, having surveillance, having radar capabilities is always a plus. It's easier for the controller to manage his traffic out there. We go to non-radar separation, we have to use excessive separation
standards and by having the ADS-B, having that surveilled target out there we're able to go with a much smaller separation."
Believe it or not, the Gulf of Mexico is basically a huge area with no radar. Air traffic controllers like Pharmakis have used a grid system with roots back to World War II to keep track of aircraft over the Gulf. It would only allow one aircraft at a time inside a 20-by-20 square mile box. ADS-B uses satellites and equipment installed on several hundred oil platforms in the Gulf to see helicopters and commercial aircraft with ADS-B equipment.
"ADS-B is a technological leap that I would put right up there with radar itself, maybe even of a larger magnitude. The potential here is really phenomenal."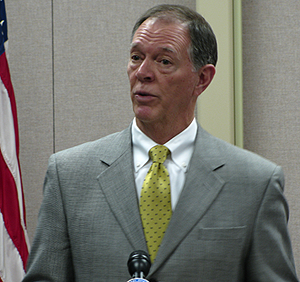 FAA Administrator Randy Babbitt is a pilot himself and understands first-hand how important it is for air traffic controllers on the ground to be able to see aircraft over the Gulf.
"When we can see the aircraft with ADS-B technology, we can go to more standard 5-mile separation, instead of 100-mile separation, and this will occur at both low altitudes and high altitudes for airline operations going across the Gulf."
The new technology has huge implications for the hundreds of helicopters that fly to oil platforms in the Gulf, up to a million flights a year. It will allow for more frequent, safer flights. Matt Zuccaro is the President of Helicopter Association International.
"I think the quickest way I can encapsulate this is that this effort has now taken the national air space system, with all its infrastructure and services and literally extended it out over the Gulf of Mexico operating environment."
The new ADS-B system is just the start of what officials at the FAA hope is the future of air traffic control across the county, what they're calling the Next-Gen Air Transportation System, satellite-based air traffic control. Again, the FAA's Randy Babbitt.
"Next-Gen is going to be a huge step. There's a lot of components for it. This is one of the key building blocks in the nation's Next Generation Air Traffic Control System."
The ADS-B system is in use in just a handful of places, but the FAA hopes to build-out the infrastructure quickly and ad new areas to the satellite-based air traffic control system.