It is the first time PetroChallenge was presented in the United States and interest in the event at the University of Houston surprised Jack Christiansen. He's the director of the Petroleum Technology Initiative at the University's
College of Technology and organizer of the event.
"Students who participate in PetroChallenge 2010 will finish with a greater understanding of the technological
and scientific developments in the oil and gas industry."
The computer simulation competition pits teams of four, acting as energy companies looking for oil and gas in a fictitious province, opened up for exploration. Ray Rhodes is with Drill-Quip, an equipment manufacturer and one of the sponsors of the event.
"This kind of challenge gives you an accurate, good overview of how hard it is, how much it costs and what a
gamble it is. You're out there risking millions of dollars for a maybe."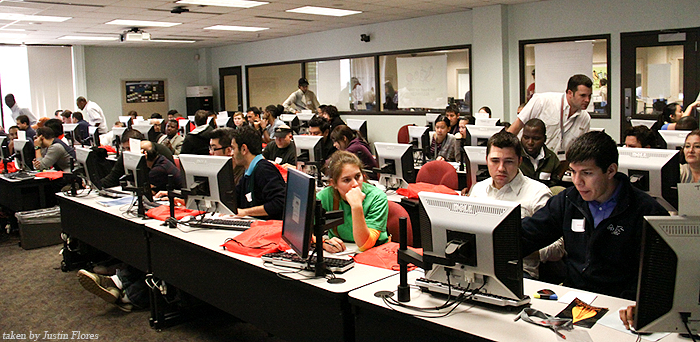 With a two hundred million dollar budget to find commercially viable oil and gas deposits, Chris Phillips, a senior engineering student, adapted to the game with little problem.
"I'm looking at through engineer and somebody else will be looking for a business spec, you know it costs too much to drill there. So, we're all pulling our heads together and see what we think will be the best outcome for the team."
PH: "What's the one thing that really excites you about the game/industry?"
Phillips: "I think learning the processes and the techniques, how they go about I guess, discovering oil and then
bringing it to market. There's a lot of different steps it takes to get there, and I think that's the intriguing part about it."
Dr. Richard Ortloff is senior training advisor with Exxon-Mobil. He doesn't think the pool of employee prospects is big enough to match the growing industry.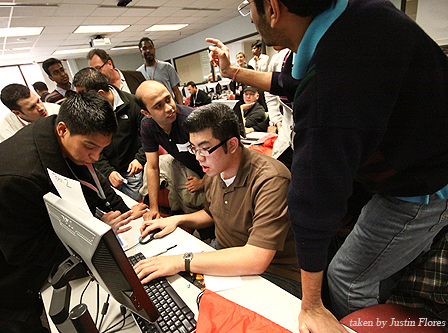 "We want the top engineering students, geologists, people that graduate from the department of technology with
various disciplines and we want them as quickly as we can get them ,because this business is still growing, and we anticipate that world demand for petroleum and natural gas, and the products that we make will continue to increase for at least the next thirty years."
Joshua Bush was a facilitator providing guidance to the game players.
"Looking at the turnout and just the expression and the enthusiasm that the students are taking, I think that it's definitely an industry that's gonna continue to grow exponentially, but the true value and the advantageous aspects of it is to gain that knowledge, because that's something that can't taken away. Anytime you gain knowledge or experience, that carries on with you."
PetroChallenge continues Tuesday at the University of Houston's College of Technology.