Tammy Duckworth is one of the seven assistant secretaries of Veterans Affairs.
"When I was in Illinois, I was the director of the state of Illinois' Department of Veterans Affairs so, I was a state employee, and a ran all veterans issues in the state of Illinois."
PH: "You come highly recommended from what I hear."
Duckworth: "Well, I'm an Iraq war veteran myself, so I come to my job with a very personal experience, having gone through the whole system of both DOD and VA care and, when I talk to my fellow veterans about how great it is to the VA for health care, I'm speaking from personal experience, because that's where I go for my health care."
She served as a major in the Illinois Army National Guard and flew combat missions as a Blackhawk helicopter pilot during the Iraq war. Five years ago her chopper was shot down and she lost both legs and partial use of her
arm as a result. Since then, Duckworth has been an advocate for veterans.
"We've come a long way in terms of bringing up the support services for our veterans. For one thing, we have an Iraq and Afghanistan coordinator at every single one of our hospitals, so that our Iraq and Afghanistan vets, when they come home, they can just go and they deal with one person, and actually, the one here in Houston just opened up, an OIF-OEF clinic. Its only been opened a couple of months, and they're doing a fantastic job. So they're the one stop shop."
A women's health care coordinator is now at every veterans hospital because of the increasing number of female veterans. Duckworth says many veterans returning home from the Vietnam war had bad experiences with the
government and never came back.
"So, all those Vietnam veterans are now in their 60s, they're all retiring, and they're finding that they need health care, because they're losing employer provided health insurance, so they're coming back to VA. Many of them are developing illnesses that it's taken 40 years, as a result to exposure to agent orange for example, to develop, so they're coming back to VA. At the very same that we have all of these wonderful Iraq and Afghanistan veterans coming home, and they also need care as well."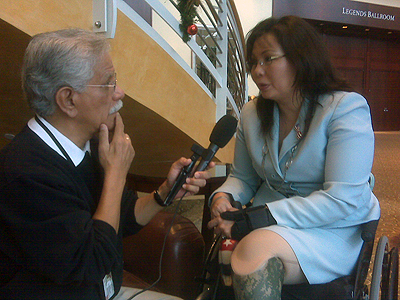 She says President Barack Obama is committed to veterans.
"He's getting ready to sign VA's budget for this year. It's 108 billion dollars. It's the largest increase in VA's budget in I believe 18 years, and he's committed 25 billion additional over base line for the next five years. So, he is really investing in our veterans, and he's made a commitment that hasn't been made in literally decades."
Duckworth says its important that every veteran knows about services available, whether its healthcare, homeloan, GI bill — services earned through their commitment to the military.