One of the problems at Houston's Bureau of Animal Regulation and Care is the extremely low adoption rate. Animals that end up there rarely leave.
Which is why Houston Mayor Bill White says one of the city's priorities is to build an adoption facility and veterinary clinic for animals housed at BARC.
"We've made great improvements in how we treat animals that have been neglected in this city. The greatest improvements we will not see and will not be covered by the press because those improvements will be made in individual households and families as people understand the responsibilities they have with the ownership of animals."
The 5.5 acre site is part of Gragg Park, on S .Wayside. It's actually on the old grounds of NASA's original mission control.
It's in Houston Councilmember James Rodriguez's district. He says a $1.7 million bequest from the estate of Ann Young was the seed money to launch this effort.
"Mrs. Young passed in 2007, but left behind a dream — a dream to have a state of the art adoption facility where more than 25,000 dogs and cats are brought to BARC each year. We District I residents love our animals and are truly honored to help realize this dream and Mrs. Young's dream in her very own back yard."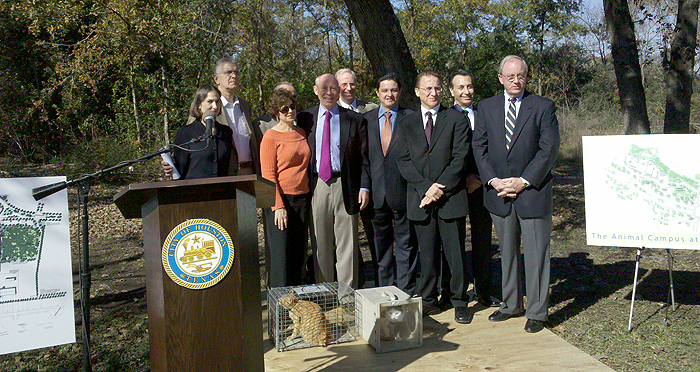 The city donated the land for the facility, along with an additional $1.2 million in Capital Improvement Funds.
Houston Parks Department Director Joe Turner says they need to raise another $6 million to complete the 30,000 square-foot facility.
"Part of the park system on this side of the property always had a couple dog parks and so it was a natural piece as an expansion to bring this adoption center here."
The facility will include a low-cost veterinary clinic open to the public. Although the city will own the land and building, they will contract out the adoption and clinic services to an independent non-profit organization.
Construction is planned for early 2011.