Integration technology now links the HPD to biometric databases of both the FBI and Department of Homeland Security. The Secure Communities Initiative will manage and modernize the processes used to identify and
ultimately remove dangerous criminal-aliens from the community.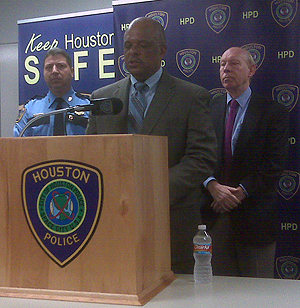 Houston Police Chief Harold Hurtt says SCI automatically checks the digital fingerprints of people arrested and booked at the local level against databases of federal government agencies like Immigration and Customs Enforcement.
"ICE then communicates the findings to HPD, based upon three levels of priority: Level 1- Include individuals convicted of major drug offenses, violent offenses such as murder, manslaughter, rape, robbery and kidnapping; Level 2- Include individuals convicted of minor drug offenses, property offenses, fraud and money laundering; and in Level 3 are other minor misdemeanors."
Chief Hurtt says ICE then informs the Houston Police Department whether or not a detainer — warrant — be placed on a prisoner being held in local custody.
"Should ICE request a detainer for the prisoner, the local charges that we have against the individual must be satisfied before ICE can take further enforcement action. If we arrested him for a charge here in the city, they do their obligation to the city and then ICE will take over."
Whereas police now routinely submit data on suspects to the FBI, they will now be able to simultaneously check immigration and criminal databases. Dan Perales is Houston Police Asst Chief in charge of information services. He says since Tuesday morning, 9 ICE detainers were needed out or nearly 300 class-C prisoners processed.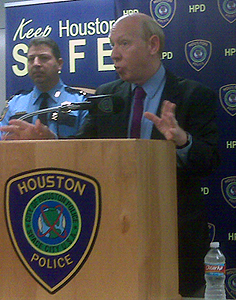 "This is only implemented within our jail facilities. It is not outside on the streets, our patrol officers are not gonna be able to ask immigration related questions, this is only when an individual has been arrested and is gonna be incarcerated in one of our jail facilities, that Secure Communities will take place."
Mayor Bill White says he anticipates an increase in arrests of real criminals from the national database.
"We hope that other jurisdictions adopt this nationwide. If there's somebody wanted on a warrant here in Houston and they're up in Montana, we want that law enforcement agency to adopt a system like that, so we can find them and bring them to justice within our own community."
The program has been implemented in more than 80-countries with nationwide coverage expected in four years.