The Hogan-Allnoch Dry Goods Co. Building was completed in 1923. It housed one of the city's oldest and largest companies. Located at 1319 Texas Ave, the building is part of the last intact block of historic structures leading to
Union Station and Minute Maid Park. Harris County Commissioners were hoping to get the green light to demolish the building and replace it with a parking lot. People opposed to the move spoke before the court, including preservationist Ramona Davis.
"I'm asking you please as good business sense, not to take this building down. There's a lot of emotion that would go with an historic building, particularly in that block. We've got to develop downtown so that people work down here and not just park. Surface parking lots are just killing us, in terms of developing our downtown."
Businessman David Smith owns property downtown, including the old Ben Milam hotel and most of the block it sits on. He told Commissioners:
"I want to buy that block, or that part of the block for one million dollars. I would want to buy that building, because it'll tie in with my plans, which have been incubating and working for so many years down the street. I plan to execute them in the next two to five years, but I'm trying to be careful on my financing, but I'm gonna buy it. Cut it at that, subject to terms and I'm not gonna bargain."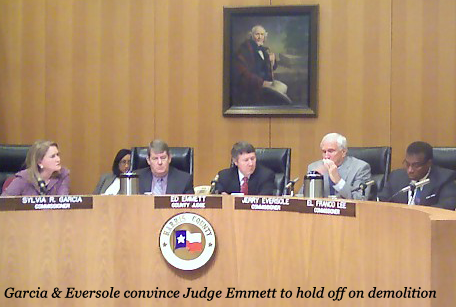 Commissioners like Jerry Eversole and Sylvia Garcia thought it was a good idea to allow for more input on the matter.
Eversole : "I move that we give a three month extension, judge."
Garcia : "Second."
Judge Ed Emmett : "With a re-appraisal."
Eversole : "With a re-appraisal."
Garcia : "And any other due diligence we need to do."
Harris County Judge Ed Emmett says he realizes the sentiment when it comes to historic buildings downtown. He just wants to make sure it doesn't come at the expense of taxpayers.
"Obviously, we're not gonna let it go for some small percentage of what it's worth, because it is a downtown lot, and downtown lots are worth money to hold on to over time. But if we were to hold on to it and we have no potential use for the building, then it would make more sense for us to take the building down and just hold the lot. But if somebody else wants the building, then they now have another three months to come forward and make a proposal."