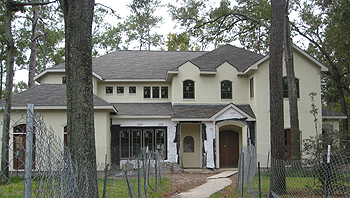 It's a six thousand square foot, 2.5 million dollar house located on Bridlewood street in the Memorial area. The house is under construction and will eventually be sold. But for now it's known as the Pink Ribbon House. Dr. Kent Osborne of Baylor College of Medicine tells the story behind the idea.
"Several years ago, one of the people on our advisory council had the idea of having a fundraising event sort of centered around building of a really nice house and then having parties related to that and having fundraising activities related activities related to building that house and we called it the pink ribbon house."

The Pink Ribbon House fundraisers are put on by the Pink Ribbon House committee. A group of Houston women –most of them breast cancer survivors. Women like Gail Rauhut who's been cancer free for almost 7 years.
"I had one of the new digital mammographies, which was very new at the time. Now, it's kind of the standard thing. And because mine was so small, the digital mammography picked it up. And we were able to have surgery and the proper treatment afterwards."
Trish Hayes has been with the group six years. She was diagnosed 9 years ago at age 36. She remember those days like it was yesterday.
"I had a young son, a baby, and I'd just finished breastfeeding him and I felt a lump, and I thought, I don't remember that being there. And that was there very first moment."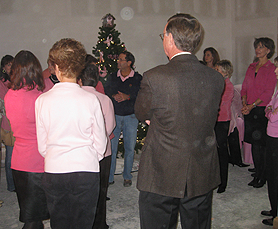 This is the fifth Pink Ribbon House in Houston. All of the previous houses were sold to private buyers and each house raised almost half a million dollars. Money is donated by developers, sponsors, private donors and also some of the parties and functions they have at the house once its ready to be shown off to the public. Hayes says it feels good to be able to give something back.

"It's wonderful to be able to take something that was so difficult and so personal and to turn it into something positive, and hopefully it's an example for my kids to see as well."

You can help breast cancer research by attending one of the Pink Ribbon House fundraisers. If you want the house itself…that'll cost a couple million.