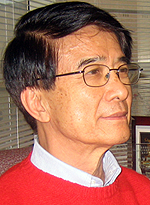 Dr. Paul Chu was able to continue leading the efforts of his research group in Houston while living in Hong Kong, through a unique arrangement between the two universities.
"Before I returned 100 per cent time here in September, I did travel on the average more than once a month back to here to look at my work. It's doing very well, but working more than 10,000 miles away, you have to sacrifice something. So therefore, you know, I felt that this is the right time to come back, you know."
Ed: "And this is a time when the University of Houston is really striving to reach Tier One."
"And I think such a progressive state really needs more Tier One universities."
Dr. Chu has received a $2.8 million grant from the U.S. Air Force Office of Scientific Research for his efforts to search for novel materials that become superconducting at higher temperatures.
"We all know that superconductivity is the properties of a material. When you cool it below a certain temperature, then you no longer have any resistance to transmit electricity. So therefore we have to spend energy to cool it. But the saving(s) outstrip the energy we use to cool it, you know. For that reason, lots of people (are) talking about large-scale applications of this materials. So this center basically tries to improve the properties of this material."
The new materials could impact power generation, storage and conditioning systems, enabling greater efficiency with increased carrying capacity. Dr. Chu joined the University of Houston in 1979. Ed Mayberry, KUHF-Houston Public Radio News.