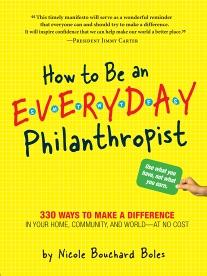 A Canadian mother of three says there are simple things people can do — even with busy lives — to give something back to the world. Nicole Boles got the idea for her book How to Be an Everyday Philanthropist from a magazine article that listed a few ways someone can make a difference with just small actions.
"It's really not how much time or money you have that matters, it's how much of yourself you're willing to share. Things like knitting hats for the homeless and recycling cell phones to help victims of violence. And this style of giving really made sense to me, and it was something that I could do, and with each everyday-type action I took I, I felt empowered and I wanted to do more and the problem I had was finding more of these time-friendly and budget-friendly ways to give back. And that's really where the inspiration for the book hit me."
Boles says, for example, you can participate online in giving small loans to low-income entrepreneurs in the developing world.
"In some ways, there's really no need to even get out of your pajamas to make a difference because the Internet has made it so easy to support the cause we care about. They start at $25 and up — they're called micro-loans. You can watch what the entrepreneurs are doing, you can watch their progress. And then the loans will be paid back to you, and when they are you can loan to someone else. For really less than a night out on the town you could buy, you know, ducks for a farmer in China, or a hive of bees for a family in Nepal, through Heifer International."
Boles says her book is a resource guide for opportunities for "giving back" in small ways throughout the day, with things you're already doing. Ed Mayberry, KUHF-Houston Public Radio News.