"Where I was standing, if you were in the road, it would be actually-perfect. It would be the moment."
Artist Karyn Olivier and I are standing on the ramp that leads to 59, just west of downtown at Richmond. Well, not ON the ramp. But right next to it.
You would be in your car. Groggy, sipping your coffee, driving to work. You pass a familiar billboard, but it doesn't have a familiar ad.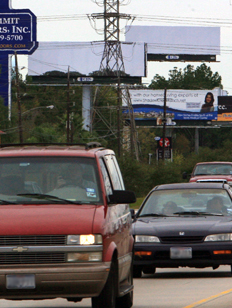 "What we're looking at is an image of what's behind the billboard, so at a certain point, if someone's driving up this ramp slowly, they're going to see something that seems familiar, and then all of sudden at some point it's going to match up and disappear."
Olivier's project is called "Inbound: Houston", and is presented by the University of Houston's Mitchell Center for the Arts, along with other groups. She bought space on 13 billboards on inbound highways—mostly 59 and Beltway 8. On each one, she's placed a photo of what's behind the billboard: a house, or trees and sky. Sometimes the image matches its background perfectly, and basically disappears. Sometimes it's a bit off-like a square of blue sky seen against a purply dusk backdrop. Olivier says she wants to give Houstonians a small surreal experience.
"You're driving every day in your car, and it becomes this very insular experience, and I do this too, you're not even aware of your surroundings. And I like the idea of not taking what we see at face value. I hope the next day they drive on the same ramp and say… let me see if that's what I think it is."
Some people might think this is an anti-billboard campaign, but Mitchell Center Director Karen Farber says it's not intended that way. In fact, advertising company CBS Outdoor offered Olivier space at a reduced price.
"That's one of the ways in which this project really isn't anti billboard, we partnered with CBS Outdoor, they helped us achieve this, and they really did make this possible."
Olivier knows that people will start to notice how nice the scenery looks without billboards. But that's not the main point. She wants to make people think about all the possibilities billboards can have—for art, for reflection.
"Should the city have less billboards? Of course they should have less billboards. But what else can billboards do?"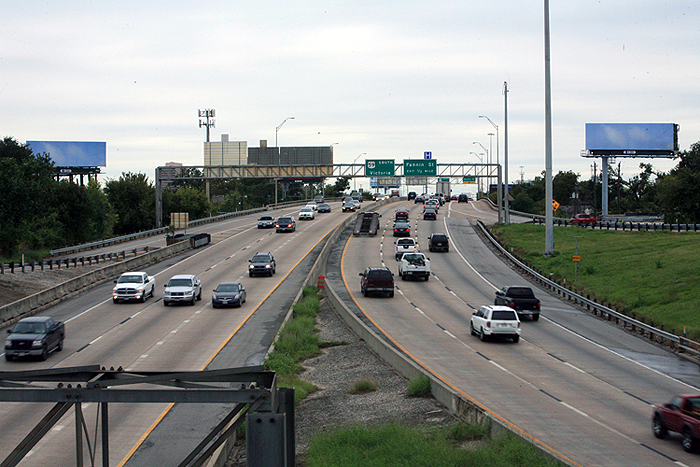 To hear more about the InBound: Houston project, including the music that was composed to go with the billboards, tune in to The Front Row on KUHF today between noon and 1pm, or go to our website, kuhf.org.