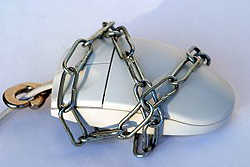 The IT world changes at a fast pace, and government regulation of cyber issues seems to come slowly. But there are several pieces of legislation winding their way through Congress. The Baker Institute for Public Policy at Rice University has hosted events focusing on how technology affects the modern world. Chris Bronk is a fellow in Technology, Society and Public Policy at Baker Institute.
"There's a bill that's been proffered by Senator Rockefeller and also by Senator Snow. It has a lot of different pieces in it about securing the cyber infrastructure of the United States—some at regional level, some at international level. We know our infrastructure's vulnerable. We know that key industries that haven't gone fully digital are going that way—Smart Grid for energy, electronic medical records in health—and there will be big security issues and there's an infrastructure that we have to build out for these, and we want to get it right as we build it."
Bronk says cyber security affects everyone—not just those in Silicon Valley. Electrical generation is one example.
"You know, you think about the electrical grid and what happens in ten years if we're all driving one electric car in our household, and the electricity that's going to be transmitted for that, and how do you deliver that efficiently, how you do pricing on that? IT's is going to be involved. How do you make sure that infrastructure isn't tampered with? It's very important in an incident like Ike, where pieces of the infrastructure break. It will tell the distributors of electricity where things are broken in a much more grand or useful way. It will help us build back pieces after a major weather event like that."
Bronk says the Internet was designed as a very high-trust system, since initially everyone on it was a researcher or a scientist on it. But Ed Mayberry, KUHF-Houston Public Radio News.