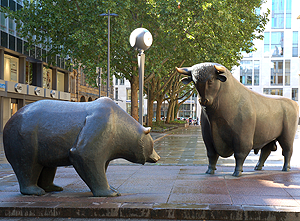 The economy is a cycle. It will never always stay down, and it will never always stay up, according to Richard Leader, chief investment officer of First Houston Capital.
"Every few years we experience both economic and stock market downturns. Emotions ran very high in the fall of 2008. The market crashed due to financial shenanigans and a panic on Wall Street. But what I found is that the world doesn't come to an end. We come through these type of events time after time. Business cycles and stock market cycles continue indefinitely regardless of whether people think it's different this time."
Leader says investors need to trust the long-term trends of history. Some investors worry they've missed the bottom, and others are waiting for the other shoe to drop. They can't both be right. Emotions don't reflect reality, according to Leader.
"We had one of the greatest bull markets in history during the 80s and 90s. Between 1982 and 2000, the S&P 500 grew at a compounded rate of 17 per cent a year. The market went up 17, (but) the average mutual fund investor and stock funds only made seven, because investors waited and waited until the market looked attractive. They missed the major part of the upturn and then got out at the first hint of trouble. I think time after time, I've seen that this is a loser's game, trying to time the market."
Leader's book is called Capital Gains: What Every Investor Needs to Know. Ed Mayberry, KUHF Houston Public Radio News.