Fate did not smile on the launch of the Ares 1-X rocket from Florida this morning. First, the cover on the top of the rocket snagged, 8 minutes before lift-off, as crews tried to remove it. Then, a cargo ship strayed into the ocean "danger zone" under the rocket's flight plan. Crews waited 20 minutes for it to clear.
Added to that, the weather was iffy all morning, with high winds and clouds. But at 9:45am, the weather looked good, and so countdown resumed-only to be halted at T minus 2 min and 39 seconds. The culprit? Triboelectrification. In other words, static created when a rocket passes through high clouds.
Today's launch of the Ares 1-X was a test flight of a new rocket system. NASA spokesperson Kylie Clem says that's why it was important to get the conditions right.
"Because this is a test and we want to get the data out of it, we do want to take the time to make sure it's a good opportunity to see the rocket visibly, and get all the data that we need."
At about 32 stories tall, the unmanned Ares 1-X rocket is 14 stories taller than the current space shuttle. NASA plans to end the shuttle program in 2011 and ramp up the Constellation Program, which aims to send men to the moon and even Mars. The Ares 1-X is the first step in that direction. NASA will try the launch again tomorrow.
Melissa Galvez, KUHF-Houston Public Radio News.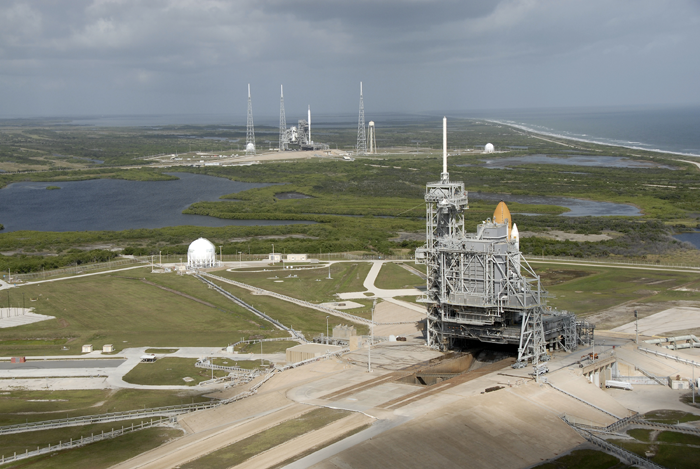 At NASA's Kennedy Space Center in Florida, space shuttle Atlantis awaits liftoff from Launch Pad 39A, at right, while the Ares I-X rocket is on Launch Pad 39B, in the background awaiting its flight test.
Photo credit: NASA/Kim Shiflett