The city of Chicago may have failed in its bid to host the Olympics, but Houston is still in the running to host an event just as big or bigger. The World Cup soccer tournament is arguably the most popular sporting event in the world and after passing the latest round of selections, Houston now competes against 26 other U.S. cities. That winner will compete against the finalists of other countries.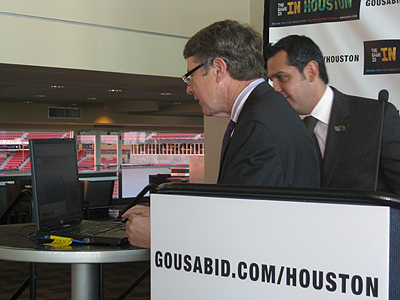 Harris County Judge Ed Emmett says getting the World Cup would be huge.
"The world cup financially brings in 400 to 600 million dollars to the community. But this is a lot more important than that. Those of us who have traveled around the world who have followed the world of football or soccer as we call it here, understand this is the international prestigious event and its benefits would go far far beyond the millions of dollars it would bring to the community."
Some of the other countries bidding are Spain, Portugal, the Netherlands, Belgium, Russia, England Australia, Japan South Korea, Belgium, Qatar and Indonesia. Houston Dynamo's player Brian Ching played on the U.S. 2006 World Cup Team.

"Every single game, lets put it in U.S terms, is like an NFL Superbowl, that's how much attention and media attention is brought to each game that's involved in the tournament, so I'd like to see the city of Houston be a part of that and share its culture with the world."
You can help Houston be selected by voting online. Just go to gousabid.com/Houston or fill out the form below.
Bill Stamps KUHF-Houston Public Radio News.