"If you go to Phoenix, AZ or Portland, OR each car has four hooks for bikes, and it only takes up an area of probably four-by-four square feet."
That's Matt Wurth. He owns I Cycle Bike Shop and is with the bicycle advocacy group Bike Houston. We met at the UH Downtown Station to ride a train with a bicycle. He was cooling off after riding from his shop on West 18th in the Heights. It was just 9AM and he was concerned we wouldn't get on the train because bikes aren't allowed during rush hour, but the car was empty and we did get on.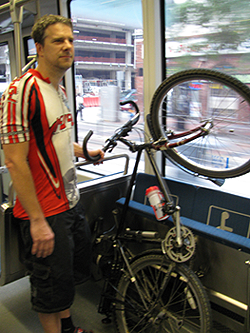 "…put it like somewhere where you don't block the isle."
"I'll show you where to put it."
"O geez a handicapped spot?"
"Yeah right in there."
"I God, so I hope nobody comes with a wheelchair."
Wurth held his bike on its rear wheel as we rode south on Main. The two seats that folded up were in a space about the size needed for the four hooks that could be used to hang bicycles.
On our return trip we entered a more crowed car and Wurth had to hold the bike in the open area by the doors. It is easy to see why METRO doesn't want bikes during rush hours, especially if there's no dedicated space to hang them.
If METRO had bike hooks, Wurth says it would increase ridership.
"People will walk about two or three blocks to catch a train, but they'll ride a bike a couple mile miles and that makes the line more effective as a transportation solution."
That seems to be the case if bike racks on METRO busses is an indicator.
"They have been, much to our surprise, hugely successful."
That's METRO's Raequel Roberts.
"We've had an enormous jump in usage. Something like 147% more boardings year-to-date this year than we had in fiscal year 2008. All total, we've had, since we put the bikes in busses program on, 82-thousand bikers use the bike rack program."
That being said Roberts says METRO has no plans to install bike hooks in future light rail cars. She does say, though, that the new cars will have more seats that fold up out of the way, so that cyclists will have more places to hold their bikes on their rear wheels, during non-rush hours.
Bike Houston advisor Peter Wang says that transit system's central lines do tend to be more crowed but the outlying lines are not.
"It doesn't make sense for METRO to have very restrictive policies on all the lines. For example Los Angeles, they restrict bikes from coming on but only on certain routes, only at certain times which makes sense, so they nuanced their policy. METRO has a one policy fits none policy for bicycles."
Wang says the hope of Bike Houston is that future METRO boards will be more customer friendly.
Rod Rice. KUHF-Houston Public Radio News.