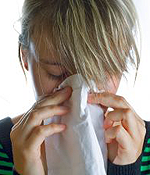 Companies may be installing hand-washing stations and using antibacterial sprays on telephones, but the President's Council of Advisors on Science and Technology says up to 120 million Americans could contract swine flu or other types of flu this fall and winter. Bob Clements with workforce management consultants Axsium Group says companies can be prepared.
"As we get into any flu season—and this year with H1N1 it's even more important—sit down and review your absence and your leave policies. You want to make sure that your policy for leave is very clear, so that documentations in your systems accurately reflect what leave people are entitled to if they do call in sick or to take care of spouses. You also want to brush up your policies and make sure that your team understands policies as it relates to Family Medical Leave Act."
Clements says once clarified, employees have to be educated about work leave policies. Beyond that, know which employees are cross-trained if one or more replacements have to be found.
"Take an inventory of your employees' skills and know where employees are cross-trained so that if somebody is sick in one area or in one department or on one line in your manufacturing plant floor, you can back-fill and you can bring people over to keep your business running."
Ed: "And on a moment's notice."
"Well, exactly, and that's just it, is that these absent issues, you know, they often aren't reported until the person doesn't show up for work that day. It's not something you can plan for. So the nature of illness and the nature of absenteeism is it's very reactive."
And that includes staying home to take care of children. Clements says there is no special leave status as far as swine flu, but companies need to be prepared because flu is a broader problem this year. Ed Mayberry, KUHF Houston Public Radio News.