The block walk is part of the Health Department's AIM project: Assessment, Intervention and Mobilization.
The department's Porfirio Villarreal says they're out to determine the 5th Ward's overall health status.
"We find out what are their needs. We found in the past that a lot of people are about to run out of their medications or have run out. They have problems accessing for example transportation, and they can't make their appointments, so that's very critical. We have community providers, service providers that are agencies that are doing really good work. A lot of times its just finding out what's available in the community, and providing them a good resource."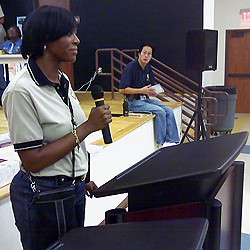 Dr. Faith Foreman is supervising the AIM project. She says they're doing more than just leaving 5th Ward residents information packets on how they can better manage their health and well being.
"Provide them some information, and also get information from them that will allow us to greater serve their needs. So, if we go to a home and they say that they don't have food, within an hour or two we will have food at that home."
PH: "Without AIM, how would you get the word out to the people of the services?"
Foreman: "Much more slowly. What AIM allows us to do, is it allows us to concentrate our efforts and be more efficient. We bring everything under one location, and we all work together to cover more ground."
Dr. Foreman says after the packets are distributed, they will spend about two weeks following up on the immediate needs of the residents.
Winston Bowie with the Department of Health and Human Services is leading a team of block walkers to one of the apartment complexes near the 5th Ward Multi-Service Center. He says the AIM projects help link residents to needed health or human services:
"If someone has an immediate need such as food, if they've been without medication for a while, or haven't been able to go to the doctor, or they don't have the financial needs to supply that, hopefully we can provide that today."
PH: "When you see the smiles on the peoples' faces that you touch, I guess that makes you feel pretty good."
Bowie: "It does. It does when you see people that seem like they don't have much hope or they don't know where to turn or what's gonna be next, now they are seeing that they are getting actual assistance on the ground with a person there to greet them."
The effort also improves the Department's readiness to respond to natural or man-made disasters.
PH, KUHF-Houston Public Radio News.