(sound of UH marching band)
The Houston Cougars are 3-0 and ranked 12th in the country. It's the first time they've even been ranked in almost 20 years. Some of the current students weren't even born then. Needless to say, they're ecstatic.
"Just excited about team man. Ain't been like this since what, 80-something?"

That's UH student Sean Crause. Another student James Hanks says everywhere you go on campus people are talking about the team.
"Oh, for sure, it's got everybody excited. The people that don't even know that much about college football are talking about national championships and stuff."
It's not just that the team has won each of its three games. It's more a case of who they've beaten. In their second game, they beat Oklahoma State, which was a top ten team at the time.
Then last week, they beat Texas Tech, which was one of the best teams in the country last year.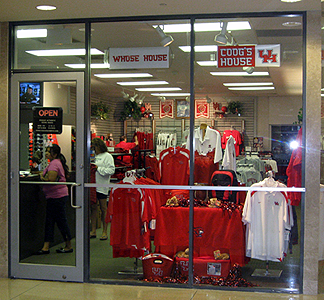 Assistant Athletic Director James Nicas says the team's success is affecting everything from ticket sales to alumni donations.
"They just wanna see this thing keep going and help it continue and they want to be a part of it, which is great. You know, I wore a UH shirt, my UH Polo, two days ago somewhere and everyone who stopped said hey UH did you go to the game, was that exciting and these are people who would have never had even glanced at me or said hello, you know nurses and doctors."
Sarah Youngdale is in charge of UH merchandising. These days more people are wanting to sport the red and white.

"People want anything they can get their hands on UH and it makes my job a lot easier."

Of course the team could lose a few games and the excitement could die down. But for now everyone is enjoying the ride. One student, Brad Jamison, says success on the field is even better than tier one
Bill Stamps: "Would you rather have your school be a tier one school or a football national champion?"
"Football national champion. I feel like once you get that it'll be a tier one school."
(Sound of band playing and crowd cheering)
Bill Stamps. KUHF-Houston Public Radio News.
The Cougars are in El Paso this week to take on UTEP. They'll play the next three games on the road before taking on SMU at Robertson Stadium for Homecoming.