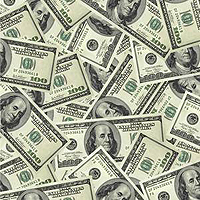 A newspaper analysis shows Texas has been approved for about $12.9 billion in stimulus grants and contracts. That's about $533 per person, according to the Recovery Accountability and Transparency Board. Economist Barton Smith says lawmakers have been distributing money on a state-by-state basis.
"Unlike a lot of federal programs based on population, or based on income and so forth, I think the rush to get into the stimulus package and get it implemented was not thought out in terms of 'how do we evenly distribute it?' Part of it, I think, is also — and I can't, Ed, I can't guarantee you that this is correct — but I believe that there was some inclination to funnel monies to states that had the worst problems."
Smith says Texas was viewed, at the time of the passage of the stimulus package, as a state with less need. Texas didn't really start to shed jobs until the spring. Smith says the past couple of years have been pretty interesting.
"We haven't had a situation like this. This dwarfs completely the so-called S&L crisis in the early nineties. The only modern-day crisis that came similar to this for a nation was not us, but was for Japan during the 1990s. It took that country a decade to get back on its feet. Japan was so slow in responding, that I think policymakers — whether it was the Bush administration or now the Obama administration — were determined to act, and act quickly."
Smith is preparing his upcoming fall symposium on the Houston economy.
Ed Mayberry, KUHF Houston Public Radio News.