The corner of Houston Avenue and Washington was once one of the busiest intersections in town.
It was a strategic spot for a car dealership.
"We moved into this building on December 6, 1941. You know, the day before Pearl Harbor. And I'm sure that my family was concerned after the next day, but we've been in some really tough times. We've been a part of this city ever since."
That's Bobby Knapp, the owner of Knapp Chevy. Selling cars has been the family business since 1921, when his grandfather opened his first car dealership in south Texas.
Knapp Chevy may be the only Chevrolet dealership in the nation in a metropolitan downtown area.
"I think what has happened is because we're the only downtown metro dealer, that implies that they haven't been successful in other places and I think they just look at our location in downtown Houston and think well downtown metro dealers don't work so we need them to go away."
In fact, Knapp Chevy is profitable. They sold more than a thousand cars last year, in addition to what they make in their service department.
Even so they got a letter from General Motors back in May, saying their franchise license would not be renewed. He appealed the decision and was denied. He appealed a second time, again denied. A third time, denied. Knapp's fourth appeal is still floating around in the GM system.
What makes Knapp Chevy interesting, besides its location and history, is its building.
David Bush with the Greater Houston Preservation Alliance says the Art Deco building still looks much like it did when it was first built in 1941.
"You can preserve a building but that's really only half the battle. The next part is finding a productive use for it. And this building has had a productive use, the same use, since 1941. Yeah, it could be a big nightclub, but it wouldn't be here for 70 years in business. So the business is an integral part of this."
That's why the Preservation Alliance got involved with the effort to keep Knapp Chevy open.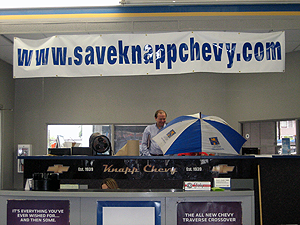 There's an online petition to GM, saveknappchevy.com and the Knapps are still waiting to hear about the pending appeal.
"We haven't heard anything yet, but we're hopeful. You know at least — we don't want to wake up some day and think we should have tried that. I think we're doing everything we can and we're giving them plenty of reasons to reconsider."
If the petition and appeals don't work, Knapp's franchise agreement will expire in October next year. Knapp says they'll stay open in one form or another, whether as a service station or a used car dealership. But he says it won't be the same.
Laurie Johnson. KUHF-Houston Public Radio News.