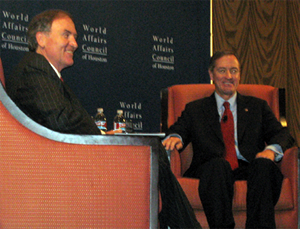 Robert Kimmitt says it's fair game to ask whether the financial crisis have been anticipated earlier. He spoke to members of the World Affairs Council, saying global imbalances could cause further economic disruption, if not corrected.
"The twin deficits in the United States — budget deficit and trade deficit — a misaligned currency in China and low demand-led growth in the major economies in Europe and Japan. I'm as optimistic as ever about the U.S. economy. We've taken body-blow, but I think we've come through it, and we're going to rely on those inherent strengths of our economy — the entrepreneurship, the flexibility, the mobility, the increased productivity on the part of our workers. So we're going to come through this."
Kimmitt says the release of TARP funds a year ago and other actions were the best possible responses to very tough conditions.
"I think there were some very courageous decisions made. Some of them weren't in keeping with traditional Republican free-market philosophies, but the alternatives were much worse. I think that the actions that were taken kept us from going into an even deeper crisis, set the stage for the recovery that I hope is upon us right now. And therefore I'm very proud to have been part of the team — and it was a bipartisan team — that was able to address those challenges."
Emmitt says the new administration continues to move into a similar direction as the Bush administration.
Ed Mayberry, KUHF Houston Public Radio News.