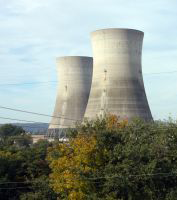 Dr. Patrick Moore is in Texas on behalf of the Clean and Safe Energy Coalition, debating two nuclear power opponents at the Clean Tech Forum at the University of Texas at San Antonio tomorrow. They have reservations about the financial practicality of pursuing more nuclear reactors in South Texas. Dr. Moore says nuclear energy costs a lot more up front, in capital costs for building the plants, but once it's built, it operates relatively inexpensively, and for a very long time.
"People in the utility business think in 20-year periods. They don't think about just a short-term recession that's going on now, which we're obviously coming back out of. So, it's a bit like a compact fluorescent light bulb compared to a normal incandescent bulb. They cost five times as much, so why would you buy one? Well, because it only uses a quarter of the energy and last four times as long. And the same is true of nuclear power. But rate payers, et cetera, find it difficult to bite off that high capital cost at the beginning even though it's going to pay off in the future."
Dr. Moore sees expansion of nuclear power as an alternative for coal-fired plants.
"The United States has a choice going forward—either to build more fossil fuel electricity plants, which now account for nearly 70 per cent of U.S. electricity, or to focus more on clean technologies like nuclear and wind that can bring us electricity without the air pollution and the greenhouse gases associated. Burning fossil fuels for energy is one of the main causes of air pollution and damage to human health. For Texas, the choice is between fossil fuel and nuclear."
Dr. Moore says no one is being injured by nuclear plants or used nuclear fuel, but a lot of people are injured by emissions from fossil fuel combustion, whether for transportation or energy. But his debating partners say nuclear reactors have serious financial, health and security risks. Ed Mayberry, KUHF Houston Public Radio News.