It's a quiet weekday afternoon in the lobby of TranStar. But a year ago, as Hurricane Ike tracked its steady course toward Houston, this place was teeming like a stirred up anthill.
The lobby was a hodge podge of emergency officials, TV cameras, air mattresses and Red Cross volunteers. It was hard to even find a path to walk through it all.
And then the barricades went up on the windows and doors. No one in, no one out, as Ike appeared on the horizon.
"When the storm actually began, and the winds began to blow and the rain began to fall — there was an eerie silence."
That's Mark Sloan, who heads up emergency management for Harris County. He had been on the job for all of one or two months when Ike left the county in a tangle of fallen trees, gaping roofs and downed power lines.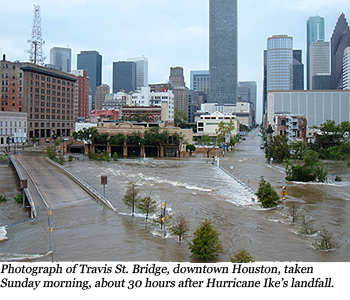 "We waited through the night until the next morning to actually see what had happened to our community. We could hear the transformers explode around us, then we woke up to no power. But we also woke up to a second type of event when a storm front moved through and dumped 6-8 inches of rain on us and we had flooding."
Harris County Judge Ed Emmett also rode out the storm at TranStar.
"Most of us, and I'd certainly put myself in this category, we had really focused hard on getting people out of harm's way, surviving the storm with minimal loss of life and damage. We had not focused quite as much on the day or two after the storm and nobody had contemplated 93 percent of the power being out."
"It's hard to reflect fondly on sleep deprivation."
Houston Mayor Bill White is tongue in cheek about his role during Hurricane Ike. But White and Emmett were our constant companions throughout those days before and after the storm.
"The way this community responded and came together after Hurricane Ike was nothing short of remarkable. I give the full credit for that to the people of the city of Houston. There were those of us who were on TV and radio more often and stuff like that, but what was important is the resiliance of the people of our great city."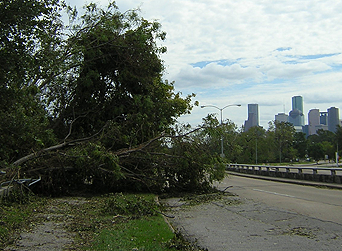 There are always lessons to take away from an experience like Ike, especially for government officials. Judge Emmett says one of the biggest lessons for him was to sometimes look past the rules and go straight to the needs.
"We all think about Houston, but then we got more than 30 other cities here. I could have done a better job of coordinating with them two days in advance. Now I have all their cell phone numbers and now I have a person on staff whose only job is to communicate with them. So we need to find a way to ignore county boundaries and do what's necessary to take care of people."
Tune in tomorrow at this time when Pat Hernandez looks at what, if anything, has been done to keep Houston on the power grid after a storm.
Laurie Johnson. KUHF-Houston Public Radio News.