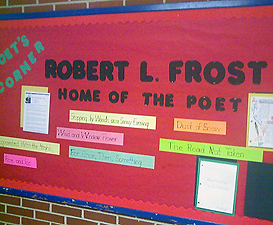 There were some parents who decided not to allow their children to watch the president's speech. That was not the case at Frost Elementary, where Christian Wynn is principal.
"We had almost 100 percent parent support for the children to view the president's address. I'd say the only form of students not participating was maybe those few parents who forgot to send back the permission form but other than that, we had full participation and support from our parents."
Some students went into the school library to watch the president on TV. Others got to stay in their classroom to hear him say:
"Don't be afraid to ask questions. Don't be afraid to ask for help when you need it. I do that every day. Asking for help isn't a sign of weakness, it's a sign of strength, because it shows you have the courage to admit when you don't know something, and that then allows you to learn something new."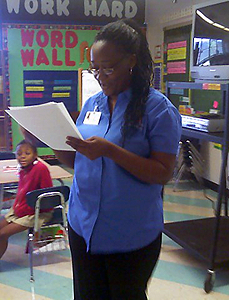 While the president made his speech at a high school in a Washington suburb, Frost Elementary teacher Anita Tigner thought her third grade students were ready to hear him:
"Yes I do. I have a very intelligent group of kids and so, they'll be able to discuss a lot of what's going on when they go back to the classroom. So, I expect them to be able to give me feedback on different questions."
There were some glitches in the broadcast signal in one classroom. Teacher Catherine Gray stepped in:
"So, President Barack Obama told us…WE NEED TO STAY IN…"
Students : "SCHOOL."
Gray: "OK, he talked about for the parents and the teachers, it's our responsibility to encourage you, but who was he talking to now?"
Students : "US."

Gray: "Thta's very good."
Principal Christian Wynn thought the speech was good. It let the students see and hear the president tell them to stay in school.
"And that's the message that we send to them. We work hard to create this college bound culture, introducing our children to different colleges and different opportunities, in terms of careers that are awaiting them after high school and college. So they know what the expectation is, even in elementary school, and it's wonderful to have our president to set the standard and state what the standard is for them."
Two other presidents delivered similar speeches to the country's students.
Pat Hernandez, KUHF-Houston Public Radio News.