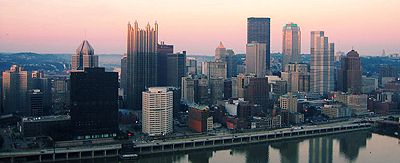 British Prime Minister Gordon Brown chaired the London summit of the G20 group of leading nations in the spring, discussing the technicalities of banking regulation and addressing global economic imbalances. Peter Matheson is the Economics Counsellor at the British Embassy in Washington.
"The commitments the leaders made in London, and also not to forget the commitments that they made in Washington last November, I think it's very important to make sure that they are being fulfilled, that the actions that we just promised are being taken, that the coordinated global action the leaders have been taking has been yielding results and has been having some of the desired effects that we wish to see. Then, obviously that is the point where they're going to want to take stock and see whether or not there's more things that they want to reach you at the summit."
Matheson says Prime Minister Brown wants to cement global recovery at the Pittsburgh summit, warning that it's too early to return to "business as usual."
"You can certainly envision a situation where thinking about the end of the recession too early is conceivable, and as a possible scenario, I think you can say that it's never too soon to think about the recovery. I think that's a principle that will be very apparent in Pittsburgh, and leaders will certainly want to focus on that. Leaders are really going to want to have a discussion and consider how best to promote sustained recovery once we come through these immediate challenges."
Ahead of the G20 summit in Pittsburgh, the G20 Finance Ministers will meet this weekend in London.
Ed Mayberry, KUHF Houston Public Radio News.