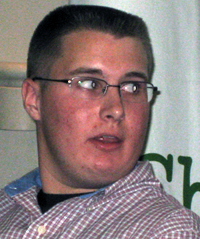 Four years ago, eleven year old Zach Flint was out hunting with his father. Even though it was dark, his dad started their four wheel all terrain vehicle. Zach jumped on the back behind him.
(sounds of ATV engine).
One sudden turn changed Zach's life forever.
"I remember before the wreck, but I don't remember, you know, during, like what happened."
The ATV flipped, sending father and son flying. Both were airlifted to the hospital.

Doctors weren't sure if Zach would live.
Now four years later, he's doing just fine. But Doctors at Children's Memorial Herman say they're seeing far too many cases like Zach's. Recently, a child was struck and killed by an ATV.
"Probably averages out to about one a week. And the devastating injury is the head injury, spine injury, just like this youngster we're talking about today—Zack. He had severe brain injury, a stroke, loss of vision in his right eye, orthopedic injuries and internal injuries. And he's lucky to be alive."
That's Doctor Steven Fletcher. He's also a hunter and says with the opening of hunting season more families will be out on four wheelers, increasing the risk of accidents.
"They'll be drinking, or you'll have dad on there with the kid on the back, or the kid that doesn't know how to drive with the little brother or sister on the back."
Doctor Fletcher's advice is simple.
"Don't let them on the four wheeler without a helmet, without taking a course. Don't let them around other kids that have been driving while drinking and don't let little-bitty kids drive unsupervised."

The Flint Family doesn't do much hunting or off road riding these days. The ATV is still in the garage, but they say if they do take it out ,they'll definitely be more careful.
Bill Stamps. KUHF-Houston Public Radio News.