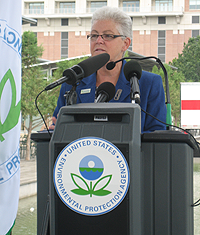 The Houston-Galveston Area Council received the funds from EPA's SmartWay Funding Opportunity Program as part of the American Recovery and Reinvestment Act, to develop and administer a Clean Truck Program. Gina McCarthy with the Environmental Protection Agency says the funds will provide a "bridge loan" for the difference between the actual cost of a new vehicle and the incentive grant.
"On behalf of President Obama and EPA administrator Lisa Jackson, I'm pleased to announce that EPA is awarding $9 million to Houston-Galveston Area Council to establish a revolving loan program that will reduce diesel emissions from port drayage trucks. Protecting health, human health and the environment is a great way to put people to work and a great way to stimulate our economy. And that's what this $9 million is about."
Drayage trucks are vehicles that transport containers from the port. McCarthy explains the financing scheme.
"What it actually does is provide seed money for loans that help trucking firms purchase cleaner equipment. And this $9 million will provide seed money for loans that will help these smaller companies do what they want to do, that they couldn't otherwise afford. But the great thing is that when they start to paying back those loans, we get to do it all again! This money will keep growing and growing in a way that, I think, the citizens of the United States want their federal government to invest money."
McCarthy says clean diesel funds can generate up to $13 of public health benefit for every dollar spent.
Ed Mayberry, KUHF Houston Public Radio News.