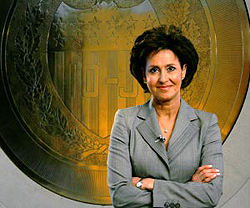 The Nightly Business Report is television's most-watched evening business news program, and there's plenty to talk about: stimulus plans, bailouts, bankruptcies and the stock market. Program host Susie Gharib will moderate a panel of local financial experts in the Elevate Lecture Series from HoustonPBS. Gharib's nightly television program airs from the New York Stock Exchange after the market is closed.
"It's a real privilege to be broadcasting from the New York Stock Exchange. I mean, this is still the center of the financial world, as far as I'm concerned, and it's very exciting to report there, even though I don't have a lot of traders running around in my background. More often than not, there are workers who are cleaning up or preparing for the next day and we have to ask them to stay out of the shot while we still do our broadcast. But, you know it's a lot of fun reporting from the New York Stock Exchange."
Gharib says the feeling she gets from her interviews with CEOs, financial experts and politicians is that the economy is still bad, but it's less bad.
"We're getting good economic reports every day, but 6.7 million people are out of work and it's very hard to see a recovery when people don't have jobs so they're not spending or people are worried about losing their jobs. Companies are going to be very slow to, you know, hire back workers. And so, as we go through this recovery, a lot of people are still going to be out of work and the unemployment rate still may notch up a bit more. We're at 9.4 per cent now. It could get up to ten per cent while we're in this, quote, 'recovery phase.'"
The panel discussion before invited guests gets underway at seven at the Houston branch of the Federal Reserve Bank of Dallas. Ed Mayberry, KUHF Houston Public Radio News.

View Larger Map