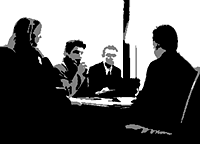 Human resources executives rated the effectiveness of various job search methods on a scale of one—least effective-to five—most effective, with networking averaging 3.98. Rick Cobb with Challenger, Gray & Christmas says it's not just about a great resume.
"The thing that people tend to forget or omit and what every human resources executive understands is that the chemistry is critical. The one that will be hired is not necessarily going to be the one on paper most qualified. It will be the one who fits the chemistry of the organization and fits the chemistry of the ultimate hirer best."
About half of the respondents gave networking the highest effectiveness rating of five. Social and professional networking sites such as LinkedIn, Facebook and Twitter are rated as good tools to help find a job. Internet job boards are given relatively high marks in the survey. Cobb says the least effective process for finding a job: attending job fairs.
"The number of people who need jobs—it goes up exponentially. The number of people hiring goes down. So the math's just not very good for a job fair in a down economy. Every sociologist who's ever looked at how people obtain work at all levels will say that it is always who you know or who you know who knows someone and how you can get in front of them and eliminate as many filters as possible."
Job seekers are advised to use all the tools at their disposal: networking, the Internet, newspapers, job fairs and even cold-calling employers. Ed Mayberry, KUHF Houston Public Radio News.