The conference is called Advances in Tissue Engineering. It has seen advances in the science of regenerative medicine. Tony Mikos is professor of bio-engineering at Rice University. He has organized the annual conference the
past 17 years. He remembers the buzz back then was on the potential of tissue engineering and how it could revolutionize medicine. Potential is now reality, as participants include people from academia, clinics and industry. Dr Mikos says the Department of Defense has provided enormous financial support for research in the area of regenerative medicine.
"Some of the problems that our soldiers experience coming back from Iraq and Afghanistan involve defects of multiple tissues, that is, defects not only of bone, but of muscle and skin that need regeneration and reconstruction. And that presents an enormous challenge to engineers, clinicians and basic scientists."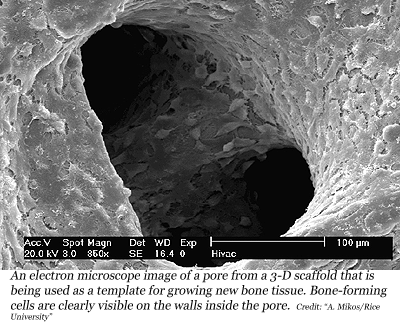 The conference focuses on the development of tissues that can be transplanted into patients from small samples of cells. It also discusses strategies to encourage patients' own bodies to repair and regenerate tissue. Jennifer West
chairs the department of bioengineering at Rice. She says scientists have helped to move what was once considered a far-fetched idea into something that is benefiting patients. But there is still a lot of work to do.
"If we can instead look at using cells from the patient's own body and encouraging those cells to make the right kinds of tissues, and make the right kinds of structures. Then, we can something that can be implanted back and allow restoration of function without going through the issues that you would have with transplantation."
Tissue engineering is a fast growing biomedical discipline that shows promise in growing human tissues like bone, cartilage and skin that can be surgically transplanted without the risk of rejection. Arnold Caplan is a professor at Case
Western Reserve, a private research university in Cleveland, Ohio. As an expert in adult stem cells, he hopes the basic science translates into something that is clinically relevant.
"Although we're not Star Trekkers exploring the vast unknown of the universe, we're explorers exploring the vast unknown universe of what cells do and how they function, and how they function normally in our bodies, so that that basic information can be used for therapeutic purposes."
He thinks the era of cell based therapy will revolutionize the delivery of healthcare. The conference continues through Saturday at Rice University.
PH, KUHF-Houston Public Radio News
This was created by composite x-rays of a 3-D scaffold, or template, that is used to grow new bone tissue. The template is made of a highly porous biodegradable plastic. The pores are seeded with bone-forming cells that make new bone, which becomes thicker and stronger as the plastic dissolves. Credit: "A. Mikos/Rice University"