66-year-old Robert Carroll Gillham, who was fired from Gallery Furniture five years ago, was charged with arson in the four alarm fire that gutted the 100-thousand square foot warehouse that contained upwards of $20 million dollars of inventory. Alison Stein is Chief Arson Investigator for the Houston Fire Dept.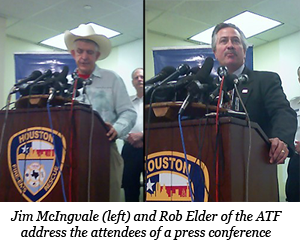 "The charges were enhanced because there was a injury that occured that an arson investigator sustained while investigating the fire, which enhanced the charges from second degree to first degree."
Arson investigators found melted red plastic and traces of gasoline in the northeast corner of the warehouse. Rob Elder is the special agent in charge of the Houston ATF Office.
"Through what I like to call just good old fashioned police work, we were able to come a suspect, after which we were able to perfect charges."
Gillham sits in the Montgomery County jail on an unrelated burglary charge. Gallery Furniture owner Jim McIngvale says its been tough but the support of the community keeps him going.
"There's a lot of difficulties involved but you know, out of much evil comes much good. So, the good is the support of the community and our hard working employees, and the fact that we're building back the world's greatest furniture store and doing what we've always done."
Pat Hernandez, KUHF-Houston Public Radio News.