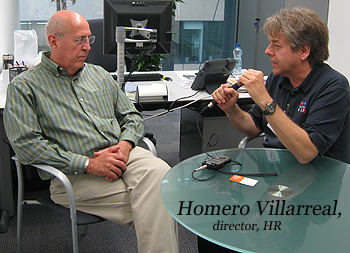 Radio Free Europe and Radio Liberty provide news for countries where free and independent media are not allowed. Many RFE journalists are refugees from the countries to which they are broadcasting. It's the job of Homero Villarreal, who was born in McAllen, Texas, to obtain visas and handle paperwork involved in employing people from various nations. Having native announcers pays off at times of crisis, such as in the aftermath of recent elections in Tehran.
"People here have been so immersed in this. Our Iranian group is just totally — Radio Farda — has been incredibly loyal and dedicated. Our technology people are also here around the clock in case they have some sort of outage, or whatever happens. I mean, they're here."
The central newsroom operates in English. The stories are then translated into the various languages. Reporters on the field often operate at great personal risk, as RFE's Congressional Relations Director Diane Zeleny explains.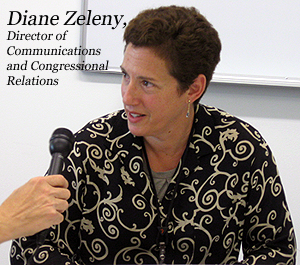 "In the last year alone, two who were kidnapped in Afghanistan, two who were murdered in Iraq. And in Iran, of course, we've had quite a bit of I guess I would call it financial blackmail by the regime against our journalists. Many of them know they can never go back to their countries because they work for us. Their families are also often harassed and intimidated."
Joanna Levison is RFE's broadcast advocate, and spends her days trying to get reporters out of trouble.
"Many countries don't exactly welcome RFE. You know, again, our job is to provide independent information to countries that don't have free media, so our job is by definition in confrontation with governments."
Ed: "What can you do from this office to get someone out of trouble? Is it, what calls do you make, you know?"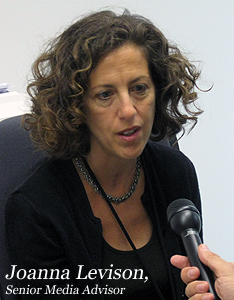 "Yeah, that's the ongoing challenge, because I think when it comes down to it, we realize we have a very limited toolbox, and we have to rely on moral suasion. We reach out to the U.S. government because we are U.S.-funded, but we also look to other embassies, we look to the EU, Committee to Protect Journalists and Human Rights Watch and Amnesty International, and sort of build a pressure campaign."
Work has been around-the-clock for the Iranian service following recent elections in Tehran. The Iranian government won't allow RFE reporters to cover the dissent, as Radio Farda Director Rod Shahidi explains.
"As you know, the international broadcasters, most of them are out of Iran. BBC, VOA, I mean, you name it, CNN. The only means that they're getting the news is Twitter, Facebook. Because the Iranian government has shut down everything—satellite, landline, cell phones, interruption of e-mail services, interruption in chat lines. And this technology, especially Facebook, I have never seen in my career that you see instant video clips and goes around the world."
As for the impact of the broadcasts, RFE's Akbar Ayazi with the Afghan service remembers coming out of the Kabul bureau once, when he ran across an 11-year-old boy polishing shoes.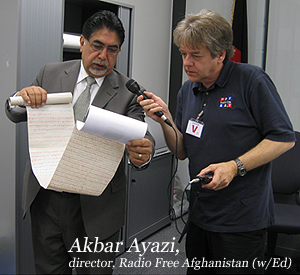 "And he's listening to a radio station, and it's our radio, Radio Free Afghanistan, which is known as Radio Azadi, Liberty. And within seconds he notices that I'm too close to his radio. So I said, 'oh, what's wrong?' And he said "well, this is a broken radio, you know, and if you touch it it'll take me another half a day to get the frequencies back. And I said 'why, what's important with this radio?' He says 'it gives me information, it teaches me, informs me and educates me, and I like it!' So I did finish my polishing and I went to the center and I bought this big boom box, you know. And the next day I went for polishing again and I said 'well, here's your radio! And now you can throw away this…' So he was excited, he was happy, but I never even told him who I am."
Ed Mayberry, KUHF Houston Public Radio News.
photo credit: Wanda Norris, RFE staff
Extended Audio
Diane Zeleny, Director of Communications and Congressional Relations
Joanna Levison, Senior Media Advisor
Radio Farda Director Rod Shahidi
Click here for Part One: Radio Free Europe Mission Shifts Further East.