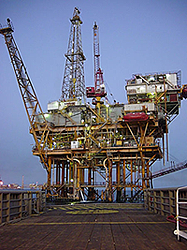 Lower energy prices began affecting producers about a year ago, and the Texas Petro Index is now tracking lower rig counts, fewer drilling permits and a decline in industry employment. Energy economist Karr Ingham says it may be a while before a rebound in the industry.
"Price is of course the driver behind all of that, and specifically, price is what determines the value of that production, and it is the value of production — the cash receipts — for crude oil and natural gas production that comes out of the ground that drives capital budgets, that drives payrolls, it drivers virtually everything having to to do with E&P activity in Texas. And so, of course, what we've seen is the combined value of crude oil and natural gas production really cut by about two-thirds just over the last 12 months."
Ingham says the national economy has been in recession since late 2007, and there's a trickle effect on the energy industry.
"It took almost a year beyond that before the Petro Index — this broad measure of Texas exploration and production activity — began to go down. We are waiting for some recovery at the national and global levels that will, of course, in turn, stimulate demand for energy products. And we haven't seen much evidence of that to this point. So it certainly looks like, at this point, like recovery in the oil and gas sector of the Texas economy is probably going to be well into 2010."
The Texas Alliance of Energy Producers represents more than 3,100 members in 32 states. Independent producers are behind about 96 per cent of all oil and gas wells drilled in Texas, accounting for about 88 per cent of the state's natural gas output and 92 per cent of its crude oil production. Ed Mayberry, KUHF Houston Public Radio News.