Before he retired from NASA in 1981, Alan Bean thought he could find a job as a test pilot, training he loved. He also had a strong interest in painting. Fellow astronauts noticed and convinced him to pursue it.
"I went in to see my boss. I said, 'I wanna let you know that I'm gonna resign in about three weeks'. He sat up in his chair, and he said 'well, what are you gonna do?' I said, I'm gonna be an artist.' He leaned over backwards and, if there hadn't been a wall nearby, he would have fallen over backwards in his chair. And then he put his hands on the desk and said 'can you make a living at that?' I said,'I don't know, but if I can't, I'm gonna go to work at Jack-in-the-Box, just so I can get enough money to live, and try to develop my skills enough where I can make a living'."
Bean, who paints in a studio here in Houston, says he knew it was a big risk, but he's always believed in following his dream. He eventually began to draw on his experience and paint a world no artist has ever seen in person, like moonscapes or a view from space. On some of his pieces, Bean creates an effect that is unique only to him.
"I thought it would be more interesting to put a moon print in the painting, you know before I started. Maybe take the hammer I had — make some marks. Do texturing that would be interesting about Apollo paintings — use Apollo tools. It makes a very interesting texture to paint on. It'd be as if you saw a western painting where somebody had a horse's hoof on it, or maybe cowboy boot imprints, or spurs or something. I've not seen it in other artwork."
He even incorporates moon dust from his space suit and cuts patches and emblems given to him by NASA into each of his paintings. While Bean is pleased at with the interest his second career is generating, he hopes former astronaut Charles Bolden becomes the new NASA Administrator.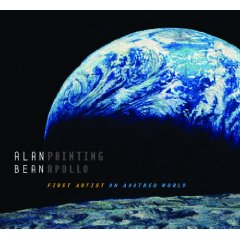 "I know Charlie real well, because I was his training instructor when he first came. A great astronaut, so I'm hoping Charlie is confirmed. I hope that Obama sees fit to give us enough money so that we can start realistically getting back to the moon."
Bean was the fourth man to walk on the moon, but says his art is his passion now.
"I'm gonna be doing this as long as I'm around and so if people care about space, or seeing humans on the moon, they need to come to me, because I'm the only guy that has the credentials to say 'that's how it was'."
A lot of his artwork is contained in the new book Alan Bean: Painting Apollo.
Pat Hernandez, KUHF…Houston Public Radio News