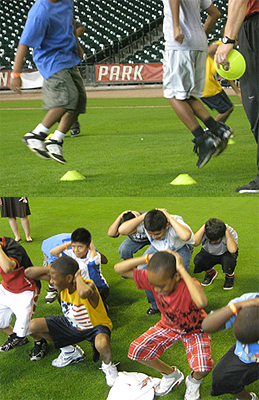 "How many people know what a calorie is?"
The boys and girls divided into groups. One group learned about healthy diets. Another learned about proper exercise and stretching.
"Do you feel that? Do you feel that stretch? Now, switch legs."
They ran, jumped and did special athletic drills, just like the pros. The goal of this two hour camp was to teach kids to take care of their bodies, just like their favorite sports stars. But when it comes to steroids, the message was DON'T do what some of those stars have done.

"Who here thinks its cheating to use steroids?"
One of the speakers, Donald Hooton knows first hand how dangerous the drugs can be.

"My brother started using steroids at the age of 16. He was using them to get bigger, to get stronger, to play on his high school baseball team. And seven months later he was dead of suicide. Steroids causes you to become depressed, chemical imbalance and he killed himself."
Donald's family started the Hooton Foundation which travels across the country getting the world out to young people.
(sound of him talking to kids)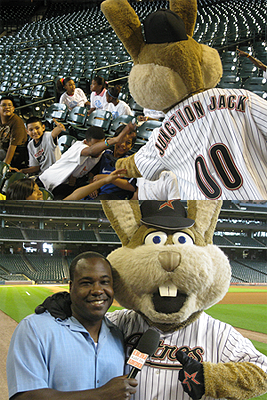 This group of youngsters came from Houston's Boys and Girls Clubs. Although they're in elementary school, many of them had already heard of players using steroids. The youngsters played around with the Astros team mascot and also heard from Astros pitchers LaTroy Hawkins and Tim Byrdak. This is Hawkins:
Bill Stamps: "How important do you think it is for them to hear about this?"
"Well not just steroids, you just don't do drugs period. It doesn't have anything to do with steroids just don't do drugs period."
So what did they learn? This is Stephanie Sanchez and Eric Gonzales:

"Steroids is like cheating and it makes you strong but it has an affect to make you mad and jittery and it can have consequences like take you into the hospital, or have bad acne on your back. And it can make life difficult."

"It's wrong for you and I'd rather do the right thing instead of the bad thing."
Besides being illegal and bad for you, the kids also learned steroids can give you bad acne. And in females, it can cause facial hair and give you a deep voice like a man. That really scared them.
Bill Stamps KUHF Houston Public radio news.