Early last month someone walked into the All Stop Food Market in the east end and fired several shots. The owner Muhammad Zubair and employee Shahzad Quraishi were killed. The murders remain unsolved but there is now a fifteen thousand dollar reward for information about the case. Police Chief Harold Hurtt believes somebody knows who the killer is.

"That person or persons, it's a cancer in our society, in our community. We need to remove it."
At a news conference Hurtt spoke about the kind of person the owner was.
"I was told by family members that if somebody came to the store and didn't have money to pay for what they needed. These individuals would give them the product so they could take it home."
City councilmember MJ Kahn says he knew the owner personally and says he was trying to do business in an area that needs more businesses.

"I attended Mr. Keshe's daughter's wedding and I know that how loving of a father he was, how loving of a husband he was and how good they were in conducting their business in an area where people needs convenience stores."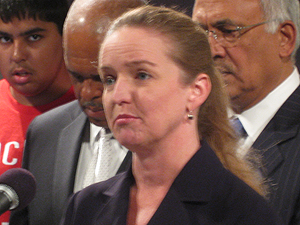 The east end, just outside of downtown is an older area that has seen its share of crime and blight. But Diane Schenke, who works for the local business district, says crime has been steadily going down thanks to extra law enforcement paid for by businesses.
"The district and its partners pay for seventeen deputies that are located here in the east end, but when something like this happens, it brings back a log of old worries and heightened tensions."
The typical reward put forth by crime stoppers in cases like this is 5-thousand dollars, but Oak Farms Dairy — located near the crime scene — is throwing in another ten-thousand in hopes of getting someone to come forward with information. Meantime, the store owner's brother says the family is struggling to go on.
"I lost my brother. The guy who did kill my brother — it's very hard on us right now, especially on my mom."

If you or someone you know has information on the case they are asked to call 713-222-TIPS or at http://www.crime-stoppers.org/.
Bill Stamps KUHF Houston Public Radio News.