(ribbon cutting)
Mayor Bill White helps cut the ribbon on the house in NE Houston, are developing area of the city that will eventually become the home to a
low-income family that qualifies. It was the result of a competition by the Rice Design Alliance and the American Institute of Architects, Houston chapter. The goal was to challenge architects and designers to come up with an affordable, sustainable house. Katherine Fosdick with the Rice Design Alliance says the 99K House competition drew 182-entries from 16-countries:
"This was the one that in the construction documents we felt thought through everything very well and the price point was right for us."
Hernandez: "Seeing the actual finished product, what does that…"
Fosdick: "It's pretty amazing to come from an idea of a competition, to a winner to a completed house that someone's going to get to enjoy."
The winning design came from Hybrid/ORA of Seattle. Architect Owen Richards says it was important that they design a house that was compact, looked good and efficient:
"I think one of the reasons we won is that we saw it being very important that the house was flexible over time so that it was not only sustainable in the sense of being green, but also sustainable in a social sense and that, over time, the house could evolve to kind of meet the changing needs of the family."
Commercial contractor David Harvey donated his company's services to build the house. It's 12-hundred square feet and has three bedrooms, 2-bathrooms, and an energy efficient geothermal heating and cooling system. Harvey admits it wasn't easy:
"Every step of the way we took a few extra steps here and there to put a little extra quality into it."
Hernandez: "What do you like about it that you're proud to be associated with this?"
Harvey: "I like the design itself. I think it's kind of a unique design because there is the flexibility of changing the rooms around, and even changing some of the built-in furniture, a pretty good effort from the design side, and we just did our best to try to follow it."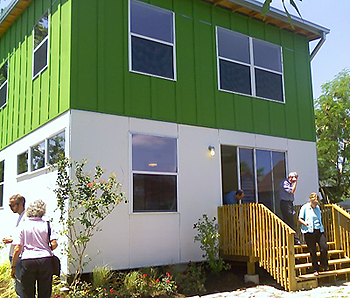 Mayor Bill White helped turn the first dirt marking the start of construction late last year:
"There's a market for these houses, there's down payment assistance that allow people who've rented to buy houses like this, there's plans and drawings, and there's plenty of places to build."
Organizers hope the house will help rejuvenate the neighborhood, a goal of the mayor's Houston Hope program for struggling neighborhoods. To see the winning design, log on to www.the99Khouse.com
Pat Hernandez, KUHF Houston Public Radio News.