(music playing)

The prom. For some it was just a few years ago, for others…ten, twenty, maybe forty years ago. But many of the people in this auditorium are over 80 years old. And being together with the music makes them feel like teenagers again. Take Angie Bell who is 88 years old.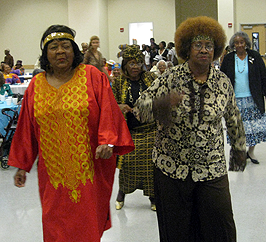 "What are you liking about it? What are you enjoying in there?"

"Seeing all my senior citizens and the music, bringing back old times."

"What does it make you think of."

"Being young again."
Ms. Bell scans the room. The women outnumber the men twenty to one. Being in their 80s, many of their husbands have passed away. But eighty-four year old Herb Gray is there and enjoying every minute.
"Are you having a good time?"
"Yeah."
"Have you danced at all?"
"No, I had a stroke one time and a fell over sideways. Not all the time, but I lose my balance."
The senior citizen prom is an event councilmember Jarvis Johnson has put on for the past four years. He does it for the seniors in his district and says this is his chance to give something back to them.
"Senior citizens are the ones who stood in the gaps for us. We stand on their shoulders because they've done so much. They were the ones who fought injustice, they fought during the civil rights era. They were there."
The crowd is treated to two firefighters featured in this years Houston firefighters calendar…the elderly women go nuts wanting to take pictures with them. They take turns hugging them while admiring their big muscles. Eighty-year old Marcella Montes is all smiles.

"Todo me ha gustado mucho. Nunca a visto algo asi."
She says she's having a good time and has never seen anything like this. But what would a prom be without a king and a queen.
"Announcing the king and queen."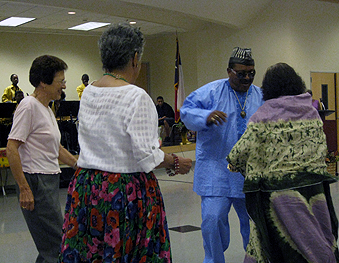 Emily Barriere works for Councilman Jarvis and says the prom makes the seniors feel alive.
"It's something different than what they do everyday at their sites and that's the whole point is, getting them out of their sites, or out of their homes to come out and enjoy themselves."
During the days of World War II, this crowd of mostly African- Americans would have been in its prime. Now, they're walkers lined up against the walls. Some get around in scooters. Some of them are old enough to have great grand children going to this year's high school prom. But this time…it's their turn.
Bill Stamps KUHF Houston Public Radio News.