Federal stimulus funds, by way of the American Recovery and Reinvestment Act, are helping to save and create millions of jobs. They're also going for tools in the job search. Vernus Swisher is CEO of Career and Recovery Resources. I asked him if the economic downturn has meant more business.
"It's been a time of great need and because we believe in responding to the need, we have tried to find resources, and sometimes the resources are through, like the Workforce Solution or working maybe with the federal government."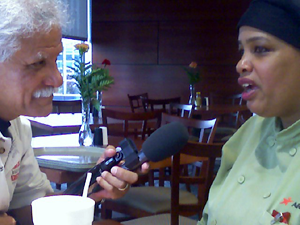 CRR's mission is to help people identify and overcome barriers to employment. It could be age, illiteracy, disabilities, homelessness, lack of skills, substance abuse and at risk behavior. Nina Thomas' world crumbled after the man in her life left her. When she sought the services of Career and Recovery Resources, she was homeless and a substance abuser. She credits CRR's dedication to helping her regain her dignity and confidence.
"I feel like there's nothing I can't do. I'm currently at ARAMARK and, they call me like assistant su-chef now. And, when you start getting up in the ranks like that, you make enough to feed your family (laugh). So, it's an awesome experience for anyone that's looking for a sense of direction because they not only help addicts like me, they help everybody."
CRR's Vernus Swisher calls Nina's story typical.
"The unexpected may happen, but if I keep my values that I'm going to be persistant that, somehow, I'm going to make it through this. That's why we're here, to help them overcome these barriers."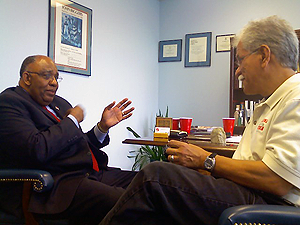 Swisher says the stimulus is helping to funding a youth summer employment program. It will provide paid work experience and give youngsters a taste of the real world.
"These funds are coming through DOL…Department of Labor, through the Gulf Coast Workfouce Board and its Workforce Solutions system. It's a 13-county board. Youth will by paid minimum wage or more, and they will be working in all facets of this community, as support personel within a non-profit, or support within a business. Summer Jobs for Youth funds are part of the American Recovery and Reinvestment Act."
More information can be found at www.careerandrecovery.org.
Pat Hernandez, KUHF…Houston Public Radio News.