"Let me scoot down just a little bit here and slide it in right by this two-by-four. There we go."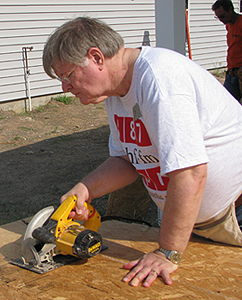 Hammers and nails replaced computer keyboards and microphones at a new home in the Umland Park neighborhood a few miles from Hobby Airport. KUHF CEO John Proffitt says volunteering is part of the station's mission.
"We see ourselves primarily as a community organization, so I think it's very appropriate for us, with our involvement in community news, to be out actually helping something like Habitat for Humanity, making a difference."
Habitat for Humanity helps lower income residents with down payments for new homes and expects at least 300 hours in so-called sweat-equity in return. This is the organization's Mike Bextermueller.
"This is the only way that a lot of people can get a little leg up, you know, get that break that they need to get into a new home, otherwise they wouldn't be able to. It's just great to be able to be a part of helping those people."
KUHF station manager Debra Fraser says the chance to give back to the Houston community was too good to pass up.
"When Habitat for Humanity came to us with this idea and said that we could come out for a day, we just got really excited and thought that it would be a great way for our staff to kind of connect and then as soon as we got out here, we saw that there were a whole bunch of Habitat houses in this neighborhood. It's just a really good feeling."
Habitat for Humanity builds around 100 homes in the Houston area each year.
Jack Williams, KUHF Houston Public Radio News.