"Okay, I'm on the handle."
"Okay."
"You on the bracket?"
"At the moment I'm on the handle so I can slide it over."
In orbit 350 miles above earth, Atlantis astronauts are hard at work, replacing an old Hubble camera with a new one and making other repairs. Far below at Houston's Museum of Natural Science, Dr. Carolyn Sumners is watching their progress.
"Hubble has taken us where we could never go with our eyes before."
Sumners runs the Astronomy program at the museum and helps pick-out photos for a Hubble gallery.
"To have a big telescope on orbit means you don't have to deal with the earth's atmosphere and all of the shimmering and the fuzziness that comes with it. We have images that have taken long-time exposures that we would never have seen before. We're working on proving
our Hubble gallery here at the museum now because there's just so much to look at."
At the Burke Baker Planetarium, Sumners says she uses Hubble images to make space seem a little more real for thousands of visitors. This is Patrick Neal from Kingwood.
"The pictures are available to everyone, which is wonderful. We take the pictures and create 3-D models of what those images look like and then fly around them and fly through them. We could never create the 3-D model if we didn't have the very accurate picture to work from."
This is Patrick Neil from Kingwood.
"It's produced a lot of important photographs helping us to learn more about the creation of our universe and the timeline involved. Just
fascinating photos to look at as well. It's pretty marvelous engineering to have even created the thing and then to get it launched into space when they did so many years ago, and now they're up there servicing it, it's going to be able to serve us a long time."

This will be the last servicing mission to Hubble. It's expected to be operational for another five years or so. Its high-tech replacement,
the James Webb Space Telescope, is expected to launch in 2014.
"We'll miss Hubble. The nice thing is if we can get the Webb telescope up by the time Hubble is gone, then all the scientists and the research teams and the computer programming, all the investment in Hubble, we limit the loss because we have another telescope that can take over."
Astronauts are expected to take several more spacewalks for Hubble repairs before Atlantis returns home next Friday.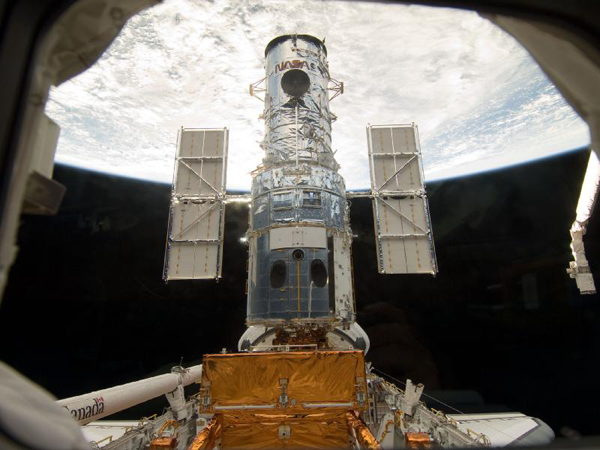 The Hubble Space Telescope stands tall in the cargo bay of the space shuttle Atlantis following its capture on Wednesday, May 13, 2009. The STS-125 mission began a series of spacewalks the following day to service Hubble. Over 11 days and five spacewalks, Atlantis' crew will make repairs and upgrades to the telescope, leaving it better than ever and ready for another five years — or more — of research.
Image Credit: NASA