Institutions of higher learning are seeing a spike in enrollment, thanks to the economy. Many workers out of a job, on the bubble, or not happy with their employment, are stepping out and going back to school. Lorena Chavez didn't lose her job, but she didn't like it either.
"I was a student for about two years and then I went out into the corporate world and got a job. I worked there for about two and a half years, and I realized that wasn't for me, that particular position, so I went back where I'm doing what I love."
She says unlike the first time she went to college, she's doing it all by herself financially.
"About eight months before I left my job, I started paying off all my credit card debt that I had incurred while I was in college the first time. And made sure that when I started, the only thing I would need to worry were my basic needs of life, would be gas, materials for school and books."
Experts say before you take the path of going back to school, know what you're getting into financially, professionally and personally. Ron McKinney is the new campus director for the Art Institute of Houston-North campus. He says initial enrollment will be mostly high school graduates, but he expects that to change.
"I would expect really, in the years to come, about a fifty-fifty mix between people coming straight out of high school and, people who have either been going to another school, realized that was a wrong degree program for them and others who have maybe even finished their degree programs, or have gotten a job in some career field that wasn't what they really wanted to do, they have a passion for creative education, and get started on their career."
Marian Combs is associate dean for academic affairs at AI Houston-north. She's charged with hiring the faculty. She knows how important it is to find instructors that will teach students what they need to apply in the private sector.
"In this environment, we very much emphasize being able to — from the perspective of mentoring faculty — engaging the student in the classroom, to get them excited about the subject area and learn the principles, but then be able to apply them and then when they graduate, be able to get a job in their career field."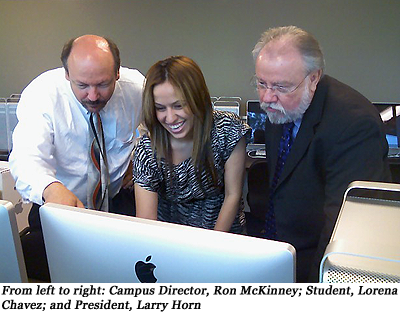 Educators say instead of focusing on the negative of the economic slump, students should see this as the opportunity to go back to school to enhance their job skills. For returning student Lorena Chavez, the second time around is more rewarding.
"I'm happier than ever, because I'm going to school. I'm doing what I want and in the end, I'm gonna be working in what I love."
Pat Hernandez, KUHF Houston Public Radio News.