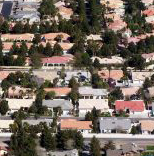 According to a new study released by independent real estate advisory firm RCLCO, Houston has more top-selling new-home communities than any other city. And Houston has the only communities on the list reporting positive sales gains. These are largely upscale communities for those moving up to second homes, including empty-nesters who now have different needs, rather than for first-time buyers. Ted Nelson is with Newland Communities.
"Cinco Ranch, which is one of our communities. Telfair, another one of our communities. Eagle Springs, another Newland community. And then The Woodlands, which is a General Growth Morgan Stanley community. There typically — and always has been — a flight to quality during the downturns. And all of the communities, certainly, in the Houston market that are on that list are communities of quality."
Nelson says when communities are created, developers have to consider the changing needs of homebuyers.
"You can't even discount location because it is important, but we focus tremendously on identifying who the customers are, and then working with our homebuilder customers to identify the right products to put on the ground to offer to the customers. It's hard for us to truly hit a first-time homebuyer, in terms of pricing, but we definitely have first-time move-up buyers all the way through empty nester and retiree buyers within most of our communities."
Cinco Ranch ranks two on the list, with 775 new-home sales for 2008—a seven per cent increase over 2007. Telfair had the highest percentage gain on the list — 13 per cent — with 412 new-home sales. Ed Mayberry, KUHF Houston Public Radio News.