The reports says the electrical system in Houston did not fail during Hurricane Ike. 99-percent of the wooden poles that carry the electrical lines did not fail. But what investigators concluded is that widespread outages occurred because trees fell across electrical wires.
Centerpoint officials aren't saying why they didn't pay more attention to what they call "vegetation management" before Ike. But Paul Hobby, who chaired the task force, says they learned a lot about trees from studying the storm.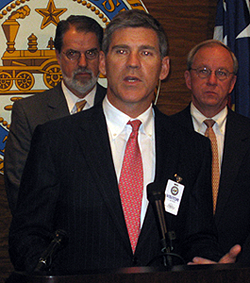 "Live Oaks did very well. Magnolias did very well. Some Ash and some Pine and some softer species did not do very well."
The task force wanted to make recommendations that are cost effective. For instance, it would cost 35 billion to put all the city's power lines underground. So that's not going to happen. But one place they do recommend investing money is in what's called a smart grid. Mayor Bill White:

"According to the analysis of the report, if we built out the smart grid and what they call the 'intelligent mid grid system', the various control systems that would allow us to detect where power is off and reroute power more effectively to get to those places — we would've come down to the level of 200-thousand homes or less, where there was no power a week earlier."
The report also recommends identifying critical users of the grid, things like: sewage treatment plants, hospitals and assisted living facilities. The report says those places should get first priority when it comes to power protections.
Bill Stamps KUHF Houston Public Radio News.