The hum of traffic on the North Sam Houston Tollway is just audible here at Harris County Flood Control's North Service Center.
It's an urban nature center with several acres of forest, grasses and a retention pond.
And right now it's a classroom for a group of 5th-graders from McDougle Elementary right across the street.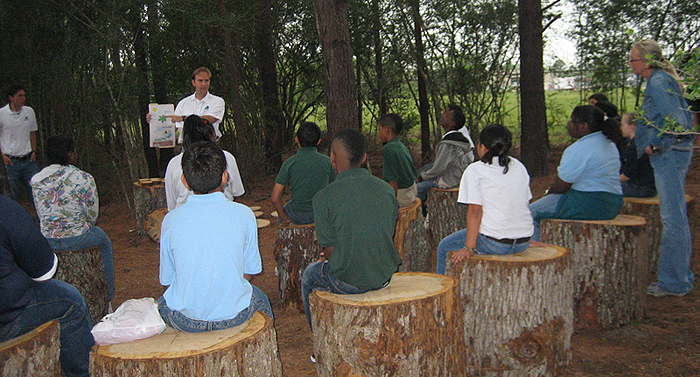 They're looking at water pulled up from the pond.
"I wonder what it tastes like? I don't know, ewww, like dirt? Maybe. Cool, you can see the water down here. That looks like a worm. Yeah, it does."
Eleven-year-old Chris is sort of the unofficial spokesman for his group.
"We've been learning about weathering and erosion, ecosystems and how the ecosystems work and how they help us all around. We also learned how by just putting some grass in some place it can act like a filter and stop most of the big clumps and pollution that sometimes is around here."
Their teacher, Jane Rau, says she drives by the nature center all the time, and one day something clicked.
"And I see this pond and I saw as they were building this and I was like wow what a cool place — this would be a really great — I mean it's right here. So I just kind of walked over here one day after school, and I said can I talk to someone about — you know I work over here — and you have this really great ecosystem going on here. Can we use it? They've just been very helpful and very wonderful and giving of their time. I mean this is their lunch hour, you know."
The foresters at the Flood Control District have been doing field training with McDougle students for three years. Rau says for a lot of these kids, it's their only exposure to wilderness settings.
"So we try to give them as many real life experiences as we can, especially with science. Because you can see it in a book and you can do labs and stuff and that helps, but when they really get out and see an ecosystem and how the whole thing works together. Or they see the trees in the forest and why some are shorter because the sunlight — they haven't got enough sunlight for photosynthesis — you know they actually see these things happening here. And they'll do an erosion experiment field investigation over there later. But it really just helps bring to life what it's all about."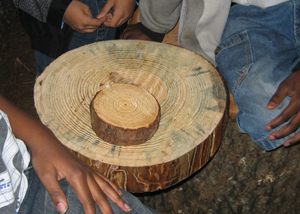 In the span of just one short hour the kids learn about erosion, photosynthesis and counting tree rings.
"38? 38. Oh! I was the closest! I said 39."
Then they all troop back across the street into their real classroom as raindrops start to fall.
Laurie Johnson. KUHF-Houston Public Radio News.