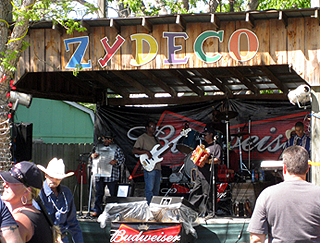 (Festival Music)
It rained so hard and long Friday and Saturday. By Sunday, people were ready to get out and have some fun.
(Festival Music)
The Texas Crawfish and Music Festival has been going on for more than two decades. There's carnival type rides for kids and plenty of great bands for the adults. But the thing many people come for is the crawfish, of course.
"It's good. I ain't lying. It's spicy."

This was Hector Ortiz's first time to the festival, but he says he's having such a good time. He says he's definitely coming back.
"It was good good crawfish. Good music and good people around. Just a family oriented place."
Over at another table stands John Lovelace. A relatively skinny guy, but he definitely wasn't eating like one.
"How much have you eaten so far?"
"I don't know 5 pounds."
"What you going for."
"I don't know 20."
As I talked with John, Robert August from Louisiana asked him how the crawfish tasted. So John let him try a couple of his.
"It ain't better than Louisiana."
"Now come on now."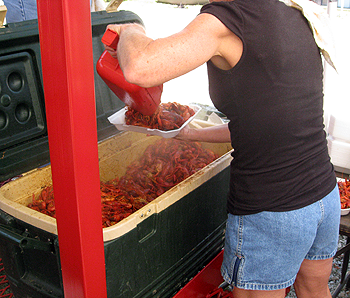 Danny Boyd is one of the cooks. Cooks don't normally give out their recipes, but I thought I'd ask anyways.

"What does it take to make great crawfish?"
"Good seasoning. That's what it is; that's our secret recipe."

On this Sunday afternoon, the sun was out and everyone was having a good time. The festival will continue next weekend…as long as Mother Nature doesn't interfere.
Bill Stamps KUHF Houston Public Radio news.