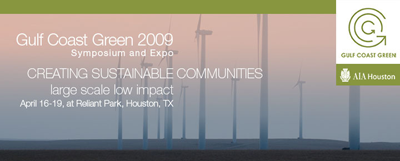 Gulf Coast Green 2009 begins with a two-day symposium on Thursday and Friday, and a two-day free public event this weekend at Reliant Park. One of the speakers will be Beth Heider from international construction management company Skanska, which has offices in Houston.
"And this year's symposium explores sustainable principles and practices at a community scale. And then following the symposium is a two-day Houston Green Expo. And it's the largest green product expo in the city."
Heider says the expo, which begins Saturday, offers presentations targeted to homeowners.
"All the latest green companies and their products for living a green life, so it's sort of the products and how you live your life using greener solutions."
One breakout session will focus on the Living Building Challenge. That's the construction of buildings with a net zero carbon footprint at an affordable price, according to Clark Brockman with Sera Architects in Portland, Oregon.
"And that means that your building will make as much energy as it uses over the course of a year. It'll also be net zero water, only using the water that falls on the site. And it'll be net zero waste water, so it'll manage all of its wastewater on site."
Brockman says the idea is to define the outer boundaries of where LEED-certified buildings will go, beyond platinum.
"There are no Living Buildings in the world—yet. There are about 60 projects that are pursuing it. I'm on a team in Portland that's now looking to do a living building highrise, and we're just in concept design."
Ed Mayberry, KUHF Houston Public Radio News.