Much of it looks like just another one of Houston's wooded lots. But underneath the weeds and wild grass, lays a part of Houston's history, tombstones that tell a story about the first African-Americans in this city.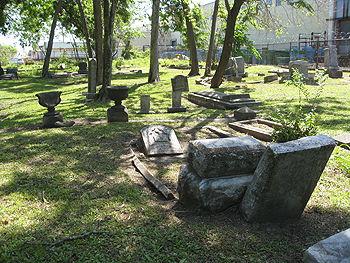 "Here's the old barber right here."
"What's this?"
"Sam Wilson. He had a barber shop and he was in the old union bank building in downtown Houston. [The tombstone reads:] 1910 to 1923, so just thirteen years old, my dear son at rest."

There's really no one to take care of the cemetery. Charles Cook and Margot Williams come out when they get a chance. But there's so much work to be done.
"Here's Mr. Brock. He has a school named after him, early African-American leader, city councilman, city alderman at that time.
"Houston's first African-American Cemetery and this is what it's turned into."
Ann Marie Leahey is a volunteer.
"What's really remarkable to me — and the reason that I' really fell in love with this cemetery — you'll find incredible markers of African-American history in this city that happened within fifteen years of being free. That's big."
Charles great grandparents are buried in this cemetery, but because of the overgrowth and fallen trees from the hurricane, you can't get to them. He says volunteers and school groups come by to help out sometimes, but even that's not enough.
"They come and clean and then walk away. This place here will grow up in one season."

They know it's going to take more money, a foundation, an endowment, something that will insure a continuous flow of money and support.
"Creating a master plan, where we can turn it into a park like setting."

But in these days of layoffs and bailouts, money isn't easy to come by. But for these three, there's simply too much history here to just walk away and let the weeds and growth take over.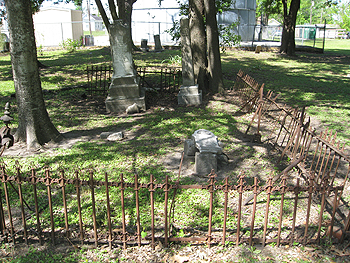 "This lady that's buried in the Vance plot, she was a slave she came here as a servant to Ms. Gray. This not only my history, [but] Mr. Cooks' history. It's not only the community's history. The state needs to come in and do something here."

Some were Houston's first black movers and shakers, but you probably won't find any of these people in a history book…and unless more supporters come forward, one day you may not be able to find them here either.
Bill Stamps, KUHF Houston Public Radio News.
For more information or to donate money, contact Laurie Feinswog at 713-303-1996 or online at www.descendantsofolivewood.org.