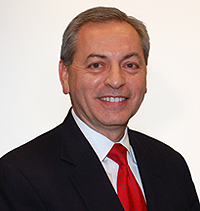 Retired Rear Admiral Don Guter comes to Houston after seven years at Duquesne University Law School in Pittsburgh. Before Duquesne, Guter was a lawyer in the Navy's Judge Advocate-General Corps — JAG — where he rose through the ranks to become Judge Advocate-General of the Navy in 2000. Guter says his goals at South Texas begin with developing a new five year plan and bringing in more money, especially from alumni.
"Houston's a booming city and we have a lot of alumni out that perhaps we haven't asked. I'd really like to increase the endowment there. It's already very healthy. With more money and more resources you can do a lot more things."
Guter also wants to reduce the student-faculty ratio and work on expanding the law library's resources. More important, he says he wants to raise the school's national profile, because South Texas isn't very well known outside this part of the country.
"It has, as I said, a wonderful reputation for everybody who knows about it. We need to just get more people to know about it."
Current South Texas Law Dean James Alfini is retiring, and Don Guter will assume his new position August 1st. He says he spent time in south Texas when he was a young Navy officer, so he's ready for Houston's heat and humidity.
Jim Bell, KUHF, Houston Public Radio News.