When firefighters arrived at the residence on Dan in east Houston, they could hear screams coming from inside the home. Senior Captain John Miller from Station 19 says they were confronted with heavy smoke and flames shooting out from a window.
"This particular fire, we looked at it and we saw we had a ventilation concern, because of the smoke condition. So, I took my crew to the roof. We cut a hole in the roof to let the heat and the smoke come out. Engine-27's crew took the first line to the back door, took their line in and began to do a search of the back part of the house and to extend their line into the building to get to the fire — to knock the fire down."
Capt Miller said they were racing against time to find anybody inside.
"Things were rapidly deteriorating. When we arrived, fire had just break out a front window and by the time I had my crew on the roof to cut the hole, fire was rolling out that front window and up on to the roof on us, you could see the fire coming over to the peak of the house. [We] worked to cut the hole in the roof. When we got the hole cut in the roof, fire was coming out of the hole probably twenty or thirty feet."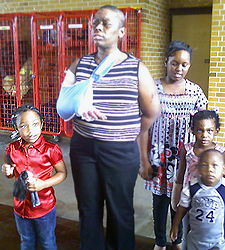 Shanay Smith received burns to the upper part of her body and was still wearing a cast on her right arm. She says it was a blur before she lost consciousness.
"That day I had got off work and we were just sitting at home. And I was sitting on my bed at the computer and my little girl came in the room, and she was like, 'it's smoking.' I came out of my room and the space heater had caught on fire and it was like flames to the ceiling."
EMS personnel took over when were pulled to safety after firefighters found Smith and her two children in three separate bedrooms.
"Because they got there so fast, they saved our life, you know? If it wasn't for them, we probably wouldn't be standing here right now."
The official cause of the fire is pending, but Capt Miller says it is what they're trained to do.
"We go to these fires to save lives, and these three are living proof that training pays off. So, it means a great deal to us."
Pat Hernandez, KUHF…Houston Public Radio News.